My Sister, Sarah Wilson: Published Knitty Designer!
Huge pats on the back to my brilliantly creative sister, Sarah, for her most recent creative accomplishment, having a knit design published by Knitty!
Sarah created a fabulous doggie-size shrug, which she calls 'Cables and Bits,' and which Knitty scooped right up!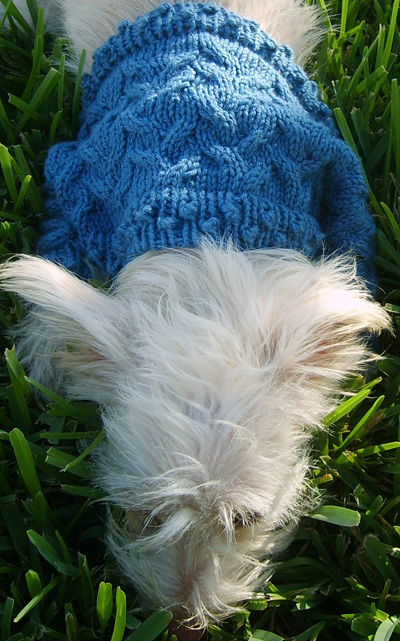 Those are Sarah's dogs in the pictures: Don't they look great, and didn't they behave fabulously for the pictures?

Did I mention I was proud of my sister? Check out her bio at the bottom of the pattern page:
"Sarah Wilson is Not a Yarn Snob. She is also a Stunt Knitter for Stitch Diva Studios and the designer in residence for her LYS."
The girl stays busy! And it didn't even mention her incredible Etsy shop, 5*7*9 Jewelry, which has recently been remodeled, restocked with more fabulous handmade jewelry, and which still sells just about everything for $5, $7, or $9, and where shipping is always free!

I'm so proud of my sister!!! She is so talented and so creative and she is always challenging me to get off my duff and do something awesome. After you've checked out the Knitty Cables and Bits pattern, make sure you check out her blog (where she often offers free patterns) and zoom on over to her Etsy store, and make some Christmas purchases that will be sure to thrill the recipient!